આપણું જૂનાગઢ ફેસબુક પેઈજ લાઇક કર્યું ?
Planning to pack your bags for this years' Girnar  Lili Parikrama Junagadh?
Well, we know your requirements, because we have come up with this article to share with you all the Need to Know Facts of Parikrama.
The History behind Lili Parikrama:
We might not know when the custom of doing the Parikrama kicked off but it has been mentioned in the Shiv Puran. It dates back to almost more than 5000 years when the Shiv Puran was written. It might be well before that too. Lord Shiva wanted to do this Parikrama and Parvati Ji said she would join him in the voyage. Though Lord Shiva tried to persuade her against it because she would not be able to walk that many miles, Parvati Ji didn't give up and thus they began the Parikrama from the sky(What a luxury!)
While they were doing the Parikrama, Lord Shiva's Angavatram fell down and dropped to a location near the present Bhavnath temple in Taleti. So this place came to be known as "Vastrapatheshwar Mahadev Mandir".
Travel Plan for Parikrama:
The entire Parikrama route amounts to 36 km. The journey is through the dense forest of the Girnar ranges.
The route is divided as
Bhavnath(Dudheshwar Temple) to Zina Bava Ni Madhi:-12 Km
2. Zina Bava Ni Madhi to Malvela:- 8 Km
3. Malvela to Bordevi:- 8 Km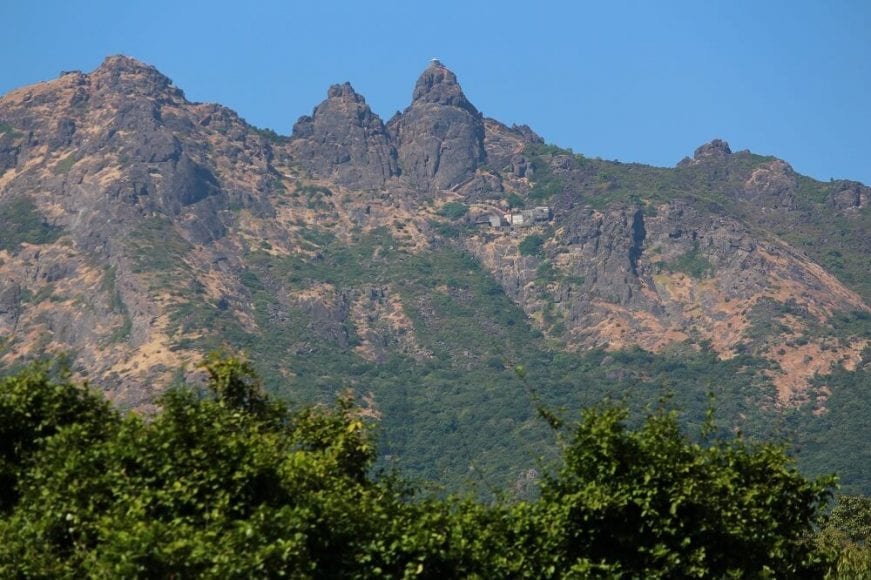 4. Bordevi to Bhavnath:- 8 Km
The parikrama starts from the Dudheshwar Temple at Bhavnath Taleti. You have to pass through the dense forest via the Intwa ni Ghodi(Not the literal female horse, but a land with an elevation in the beginning and subsequent drop in the elevation afterward). After you pass this ghodi, you reach the Zina Bava ni Madhi located near the largest dam of Junagadh district, Hasnapur dam. Usually, people do a night halt here. There are chances that you might have an encounter with the Jungle-King(Gir Lions).
There are two options from here onward
– Directly reach Malvela
– Reach Malvela via Sarkhadiya Hanuman.
You may get the pleasure of sighting Deers here.You can also visit Suraj-Kund from Sarkhadiya Hanuman.
The toughest route awaits you as you start moving ahead from Malvela. This ghodi is known as Nal-Pani ni ghodi or Malvela ni ghodi. Beware of this ghodi as a maximum number of accidents are reported from this place. After this, you reach Bordevi.
Places like Kaala Ghuno and Tataniya Ghuno carry water all the year round. These water resources are a shelter to Crocodiles.
You now track back your journey to Bhavnath Taleti.
Take a Deep Breath now and Congratulate yourself as you have finally completed the Parikrama.
An Important Point to Note: Don't pack your bags with too much food as there are many Annshektras on the entire route where you can grab your daily calories.
Good to Know Facts:
Near about 1 Million people from all over India belonging to various castes come to attend this Parikrama. It also plays a big role in the economy of Junagadh. One can view a sight of the pilgrims jam-packing the trains and buses filling the Roof-Tops too!
A Tip for the locals; the Lili Parikrama starts before the main event, so if you wish to go but not comfortable in going with the crowd during the main Parikrama, go for the Lili Parikrama.
Last but not the least, do not forget to keep the Jungle clean as it a home to a wide variety of ecosystem. Carry trash in your own bags and do not pollute the surrounding.
Have a Swachch Parikrama!
Also Read : જૂનાગઢમાં તા.27મી જૂન, 2:00 PM સુધીમાં વધુ એક કોરોના દર્દીના મૃત્યુ સાથે પોઝિટિવ કેસની સંખ્યા જાણીએ.
આપણું જૂનાગઢ ફેસબુક પેઈજ લાઇક કર્યું ?
આ લેખ ગમ્યો હોય તો તમારા મિત્રો સાથે જરૂર Share કરજો..!!