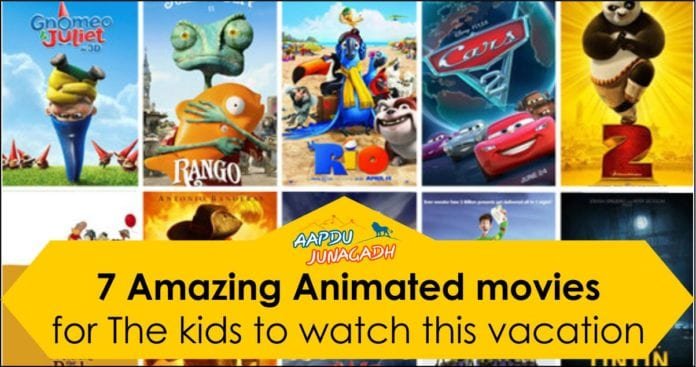 The festivity of Diwali has left every one of us with great joy, energy and some beautiful memories to cherish and maybe a lot of work to be done for the parents! And we know what you are thinking, still the little kids have their holidays almost for a week before the schools reopen. So, it's quite understandable that all the mummies might be worried about their munchkins busy playing games in the cell phones or just roaming around in the streets in this scorching heat.
But there's nothing to worry about. We've got a simple solution for you which will keep the children busy and you can relax too. So let's get to the point. Who doesn't like cartoons, right? And if the cartoons are in the form of a movie, then it's better for the parents to make the kids sit at one place at least a little longer. Here we are bringing up the best of the animated movies for all the children out there and these can be enjoyed by the adults to the same degree as kids!
Movies are a great tool for character building. They can explain important life lessons that we keep trying to teach our children. So, here we go! Presenting Top 7 animated movies for your kids to enjoy in the last days of the vacation. Let's have a look at the list:
1. Coco
This vibrant Disney movie is inspired by Mexico's Day of the Dead and it won not only one but two Oscars. Miguel is a young boy whose family doesn't like his passion for music. He's magically transported to the Land of the Dead. Miguel learns about his family's unconditional love through various adventures.
Age group: 7 years or more
2. Toy Story
The first of the Toy Story movies introduces kids to young Andy and his dearest toys. When Andy receives a fancy new toy for his birthday as a spaceman Buzz Lightyear, Woody who is Andy's previous favorite toy gets a little jealous. The story takes the watcher around a lot of laughter and gives a sense of teamwork.
Age group: 5 years or more
3. Monsters, Inc.
Monsters Incorporated is a story where monsters are trained to scare kids to earn. Two of the monsters – Sullivan and Mike accidentally let a little girl from the human world in the factory and the things start getting wrong very quickly. A great story with jokes and a lot of heartfelt moments make this movie a perfect entertainment for the kids. It's the best example of bond of friendship.
Age group: 5 years or more
4. Moana:
Moana takes the children to an epic journey and teaches them to face their fears. She is a little girl wondering what's beyond her island and worried about her parents.
Age group: 6 years or more
5. Finding Dory:
It's a story of Dory, who forgets everything within 10 seconds, becomes friends with Nemo and Marlin. They join her on her way back to find her parents. It's a crazy fish story with a ridiculously happy ending that will be equally cherished by kids and parents.
Age group: 6 years or more
6. Up:
After the death of his wife and an incident at home, an old man named Carl, is forced to go to a retirement home. However, he still wants to go on an adventure to South America which he and his wife had planned. Ultimately, the adventure involves a flying house, a young boy, a talking dog and a strange, large bird. The movie shows that life is all about taking the next step.
Age group: 6 years or more
7. Kung Fu Panda:
The first movie in the Kung Fu Panda series is a comic movie about a lazy panda, Po who somehow must become a Kung Fu Master in order to save the village from the snow leopard. Believing in himself, Po becomes a Kung Fu hero and saves everyone around. This movie teaches a very important lesson, that anyone can do anything with a pinch of will and direction!
Age group: 5 years or more
So here is your list for 7 days into the reopening of school! Watch these movies with your kids and teach them life lessons through such wonderful stories. Shoot your movie suggestions in the Comment Box and let everyone else get the benefit of it!