"A simple story told in a powerful way, dialogues that hit you hard and music with a lasting effect are well supported by brilliant performances, good choreography and cinematography that makes the vast, barren landscape of Kutch look beautiful." – Times of India
And this is just one review. There are countless out there that has kept us all spellbound!
So we were in the office when we got to know that a Gujarati movie has won the National Award. The first reaction was a quick shock! And then when the Trailer was released, I pinched myself, is this for real? Like this level of cinematography, the dialogues that gave me goosebumps and the music that made my legs sway?
This is not to be taken as an exaggeration, watched the trailer thrice, the same day and then again subsequent times. And when Asvaar was released, I took to the lines, "Ene sapna randhya, hu bethi khav"
So we got the Star Cast of Hellaro to Suraj Cineplex and their story already was a testament to what we were going to witness on Nov 8, 2019. Here's a sneakpeak:
So let me tell you why you should watch Hellaro at the earliest possible time
1. Because it's Hellaro – an outburst!
I am not someone who would take out imaginary swords when it comes to defending female, I respect all genders equally, but when Arjan (Aarjav Trivedi) tells Manjhri (Shraddha Dangar), "Pankh hoi ke shingada, jate kapi nakhje", I swear, I wanted to just punch him square into the face.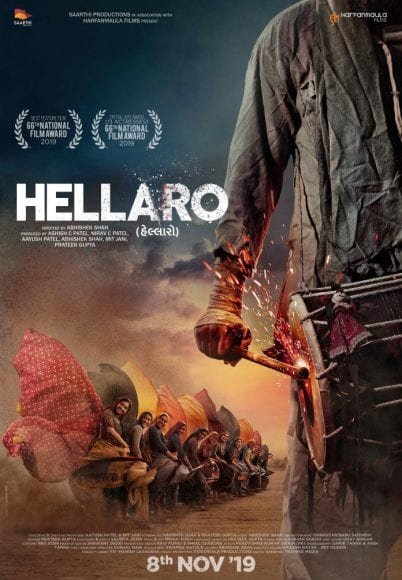 But this is how good the artists gave their performance that you can actually feel the outburst in your veins.
2. Cinematography that will take you to the tones of Kutch
The movie has amazing visuals and will make you thirsty when you see the barren lands of Kutch. The way their daily task of fetching water becomes a secret rendezvous to let themselves loose is just something that you'd want to happen each day as the movie proceeds.
3. Dialogues that will keep getting applause
There are so many dialogues that will raise those goosebumps on your hands and there are some that can even make you cry if you are that emotional!
One thing I am sure you will remember, "Marva ni bik e jivavanu nai chhodye!"
Here's what Saumya Joshi had in mind with Asvaar:
4. Music that will make you stand up and do Garba
Above all, the movie is about Garba and how the women in the movie pursue this passion in a secret way. The songs and lyrics are amazing and once you are done doing Garba on the songs, just sit down, recline and understand the deep meaning that they have to convey.
Here's the song:
5. Best Feature Film at the 66th National Film Awards
This is the first Gujarati movie that made it to the National Level by winning the Best Feature Film at 66th National Film Award. And this is a matter of pride for all of us. So we must watch the movie (at least twice!) to honor all those who are a part of the movie Hellaro!
Enough with the details, go watch the movie at Suraj Cineplex and see for yourself and once you are done, don't forget to review it!
Author: Mitali Raval #TeamAapduJunagadh