Top 5 Youtube channels for Men : Men will be men! no, I am not talking about those funny ads. For some reason(I don't know the reason!) men always believe that taking care of themselves is "girly" but it's not true. Well, we all love to look good personally & professionally. Did you know that dressing better can lead you to more money & more respect personally & professionally. I mean seriously when you see two salesmen at the counter one of them is well dressed & is confident and the other one is nervous & not much well dressed, who would you prefer then? Well dressed man of course. Here are top 5 youtube channels that every gentleman need!
1. Alpha M.
Aaron Marino is one of the most recognized faces in the men's lifestyle sphere and his YouTube channel is the most popular men's style channel on the planet or in the universe!
Topics:
-Styling for Men
-Grooming(Some of them may be embarrassing too!)
-Fitness
-Relationship
-Etiquette
Link: AlphaM
2.Real Men Real Style
Real Men Real Style provides men the tools to educate themselves and build a wardrobe that complements their individual style along with the amazing lifestyle advice, business skills & much more. Antonio & his team provides a lot of free e-books & content that are really helpful.

Topics:
– Clothing
-Grooming
-Business Skills
-Travel
-Lifestyle
Link: RealMenRealStyle
3.Ashley Weston
Ashley Weston is a Celebrity Menswear Stylist and Men's Style Expert. Her work can be seen on the red carpets and covers & pages of GQ, Esquire, Vanity Fair, Men's Health, Men's Journal, Nylon, Wired, InStyle, Interview, and many others(in short, she's awesome!).

Topics:
– Men's grooming & clothing essentials
– How to advice
– Dating & relationship
Link: ashleypweston
4.Teaching Men's Fashion
Teaching Men's Fashion (or TMF Style) is about educating men on improving their appearances, staying well-groomed, picking the right clothes, using the latest technology, and learning how to care for your body and hair.

Started in 2012 by two brothers, Jose and Juan Zuniga, TMF has rapidly grown into one of the top YouTube channels for men's lifestyle.
-Style
-Grooming
-Fitness
-Vlogs
Link: Teachingmensfashion
5.Mayank Bhattacharya
It's not often you'll see someone from India to get featured on global style advice Youtube channels, but Mayank features because of his sheer determination and passion for helping men improve their style.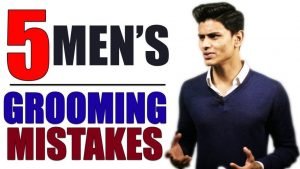 Through his well-researched videos, he brings in science to back up interesting topics like how to develop a strong jawline and why you should always be dressed at your best.
Topics:
-Styling for Men
-Grooming
-Dating
-Fitness
-Technology
-Vlog
Link: dstfilm
These are our top 5 picks, did we miss out any other channels?
Share with us in the comment below
Also Read : જૂનાગઢ કોરોના અપડેટ: તા.9મી જૂનના રોજ, 6:30 PM સુધીમાં વધુ એક કેસ નોંધાયો…