Mahabat Maqbara : We have heard many tales of the Nawabs here and there. His fondness for dogs and the celebration of their birthdays and marriages which were then declared as Public Holiday. Let's tell you about the beautiful structures that were built under their reign which stands as a reflection of the cultural bliss of Junagadh.
:: Mahabat Maqbara ::
Most of the time when we mix a lot of things it becomes a hotchpotch, but there is exception always. One such exception is Mahabat Maqbara the reason being, this marvel is a mixture of various architectural forms – Gothic and Indo-Islamic. It is less sung in India but has it's own place when it comes to a monument that gives you the pleasure of beholding its sight!
The Mahabat Maqbara is the mausoleum of Mahabat Khanji, Nawab of Junagadh and Bahauddin Maqbara of Bahaduddinbhai Hasainbhai, a notable wazir of Nawab Rasul Khanji The Maqbara was once the home of Nawabs. Its Construction began in 1878 by Mahabat Khanji and was completed in 1892 by his successor, Bahadur Khanji.
The structure was completed in about a decade's time but it was worth the wait, for the intricate carvings on its inner and outer façades, fine arches, French-style windows, Gothic columns and the grandest feature are the doors of Silver! A distinctive feature is both the buildings have Onion-shaped Domes.
Other attractions of the place are the four Minarets that surround the Maqbara, which are encircled from top to bottom with winding staircases.
It might seem difficult in the beginning to understand the combination of Indo-Islamic, European and Gothic architecture in the construction of this structure, but there is a story behind it – The story of the establishment of Junagadh.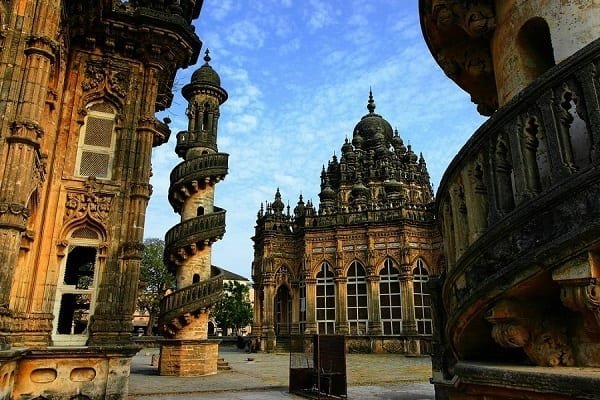 Junagadh State was founded in 1730. In 1807 it became a British protectorate. The East India Company took control of the state by 1818, but the Saurashtra area never came under the direct administration of British India. Instead, the British divided the territory into more than one hundred princely states, which remained in existence until 1947. The present old town, developed during the 19th and 20th centuries, is one of the former princely states which were outside but under the suzerainty of British India. So the Maqbara has an overall influence, owing to such a diversification in the culture at that time.
Although today, the Maqbara is not in good condition because of low maintenance and public exploitation. It is the symbol of our Glorious History. Let us not destroy it and stop others from doing so.
Visit the Maqbara and feel mesmerized by it and if there is anything you think we have missed out, do comment it!
Also Read : જૂનાગઢમાં તા 27મી મેના રોજ બપોરે 12:30 વાગ્યા સુધીમાં 3 લોકો ડિસ્ચાર્જ થતા આટલા થયા રિકવર કેસ!
આપણું જૂનાગઢ ફેસબુક પેઈજ લાઇક કર્યું ?
આ લેખ ગમ્યો હોય તો તમારા મિત્રો સાથે જરૂર Share કરજો..!!